"What about the glass? It seems like a vulnerability," Tesla Chief Executive Elon Musk said during the Cybertruck debut.
It's a good question. Glass is vulnerable. For instance, if you throw a heavy steel ball at a truck window, it would probably shatter.
"It's transparent metal glass," Musk said.
Gasps of "What?" can be heard throughout the crowd.
"That's right," Musk said, nodding toward the Cybertruck with pride.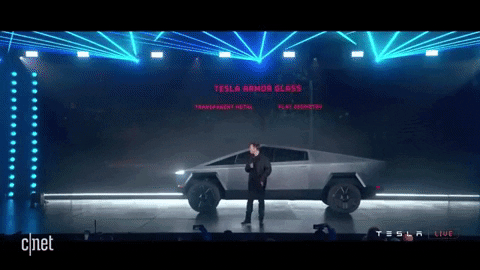 A few minutes later, Tesla's chief designer Franz von Holzhausen struts across the stage with a steel sphere the size of a baseball. "Franz, can you try to break this glass, please?" the CEO instructs.
You know the rest. Franz smashed the window. Then he smashed another window. It was cringeworthy and hilarious. The Cybertruck failed in its first demo. And, it didn't matter a bit.
The Cybertruck took a hit and was still an immediate hit. It was a car with an instant presence in pop culture. I mean, a guy made a mashed potato replica of the truck and filled the bed with gravy. Tesla even made a t-shirt to commemorate the blunder with the window. Cybertruck has gained a daily presence in news and commentary. You may even be reading a story about the Cybertruck at this very moment.
Cybertruck looks like nothing else on the road, but as soon as Tesla can ramp production the futuristic hauler will be all over the road. It's hard to imagine any vehicle topping the hype that will surround the Cybertruck in coming years.
The Cybertruck has been spotted a few times on the road. Musk took it out for a dinner at Japanese restaurant Nobu in Malibu, which placed the Cybertruck on the pages of TMZ. People posted videos to social media of the hulking, raw metal vehicle speeding down the highway. One woman captured the truck driving down Crenshaw Boulevard in Los Angeles with Musk riding shotgun as Jay Leno piloted the truck.
Despite controversial design, the Cybertruck is going to have mass appeal.
Here are a few potential profiles of the Cybertruck buyer:
The Tesla Diehard
Tesla fans are enthusiastic and largely devoted. Many will buy any and every thing Tesla produces. They're super fans. And, many of them are on TMC.
It was no surprise that hundreds of thousands of people immediately reserved the Cybertruck. Several TMC members were among the first wave.
"I personally think it looks so absurd that I absolutely love it. I placed two orders for it to replace my Model 3 and Ram 1500," TMC Member imnotdavez posted. "99% of people might think it's fugly, but I LOVE it. It's so unique that I'd take it over a high-end Range Rover, G-Wagon, or even a supercar. Bottom line is that I'm buying it for me and not everyone else."
The Lead-Foot
The Dodge Ram SRT is recognized by both Guinness Book and Sports Car Club of America for being the fastest production truck in the world. Its Viper V10 motor scoots the truck to 60 mph in 4.8 seconds.
The Cybertruck will hit 60 mph in 2.9 seconds. It's going to be a beast, tougher than any tough-guy truck available. That lifted land yacht taking up three parking places may be replaced with a Cybertruck. Tesla is offering a high-end version of the truck with a 500 mile range and a tow rating of 14,000 pounds. Let's not forget the "Armor Glass" and body panels that are said to withstand a 9 mm bullet.
The Baller
It only took a few weeks for the Cybertruck to make an appearance in a rap video. The video for Travis Scott's "Gang Gang" shows the rapper delivering lyrics as he circles that Cybertruck while riding the "Cyberquad" ATV.
Genius, a site for annotating rap lyrics, already lists more than a dozen songs that have namechecked the Cybertruck.
Cybertruck will be the hot ride. Rappers, athletes, tech titans, YouTubers and probably a former California governor will all flaunt the truck.
The Worker
While some may have wondered if it will have adequate capabilities, the Cybertruck appears well-suited as a work truck across many industries. Its specs promise to be more than capable to tow, haul, and off-road when necessary.
What's more, the Cybertruck will have features that prove incredibly handy in the field:
3,500 pounds of payload capacity
Adjustable air suspension
100 cubic feet of exterior, lockable storage, including a magic tonneau cover that is strong enough to stand on
On-board power and compressed air.
Tesla says Cybertruck "is the most powerful tool we have ever built."
Police
Interestingly, the Cybertruck has earned early interest from law enforcement agencies. Makes sense – fast, can take a bullet, and packs features that in themselves could help provide service to the community.
San Luis Potosí, Mexico Mayor Adrián Esper Cárdenas reportedly ordered 15 Cybertrucks to be used by the municipality's police force. Likewise, United Arab Emirates' Dubai Police Force and the Kansas Highway Patrol have all expressed interest.
In addition to these profiles, there will be soccer moms. There will be "van life" converts camping and vlogging atop the tonneau. There will be mud-truckers. There will be Cybertrucks with exoskeletons wrapped like billboards.
It's amazing to see a concept so counter to conventional design gain popularity. With a gameplan of putting electric power in a stylish package, Tesla pushed the world to think about cars in a new way. Now with most automakers deciding to overhaul their same old offerings as EVs, Tesla is right there again challenge them to think differently.
In the meantime, Tesla still needs to answer Musks query.
"What about the glass?"