Active Member
Supporting Member
Why stick with 21's when there are almost no tire choices? Not to mention there are a lot of 20" wheels if you still want curb rash magnets that weigh in the low 20 pound range. Don't just look at the link I sent on the Tsportline, go look at Martian wheels, Titan 7, etc. You can easily save 15 pounds per wheel! That is a massive unsprung weight savings.
It is obvious by your reply you don't understand the significance of unsprung mass and its effect on vehicle dynamics. People spend thousands of dollars just to shave a few pounds off unsprung weight as it is far more impactful to performance than weight in other areas of the car. There is no reason to stay with 21" wheels. You can go to 20's, 19's or 18's all based on your needs.
Watch the video about the improvement in performance going with the lighter weight wheels. To get that kind of improvement on an already quick car is a phenomenal gain in performance.
If you don't understand it, that is fine and you are likely the target demographic that Tesla had in mind when they threw on a bunch stuff with no real holistic view about performance.
Here is one of the simplest explanations I could find that would possibly serve as a primer for you.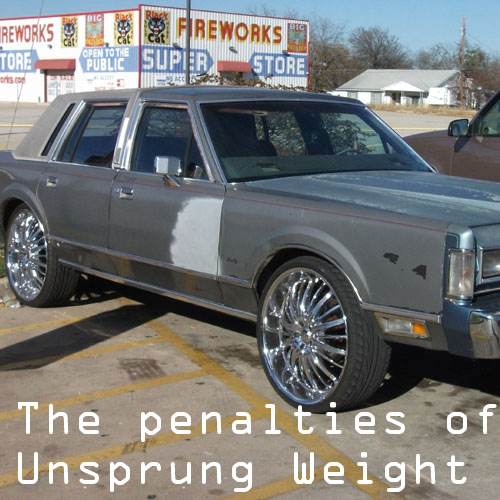 Unsprung weight is one of those terms used a lot in car tuning circles. Here's a rundown of what unsprung weight is and why it matters.

www.eeuroparts.com