2014 Tesla Model S
P100++
VIN: 5YJSA1H12EFP28615
The most powerful rear-wheel drive Tesla in the world.
The first and only truly performance tuned Tesla Model S in the world.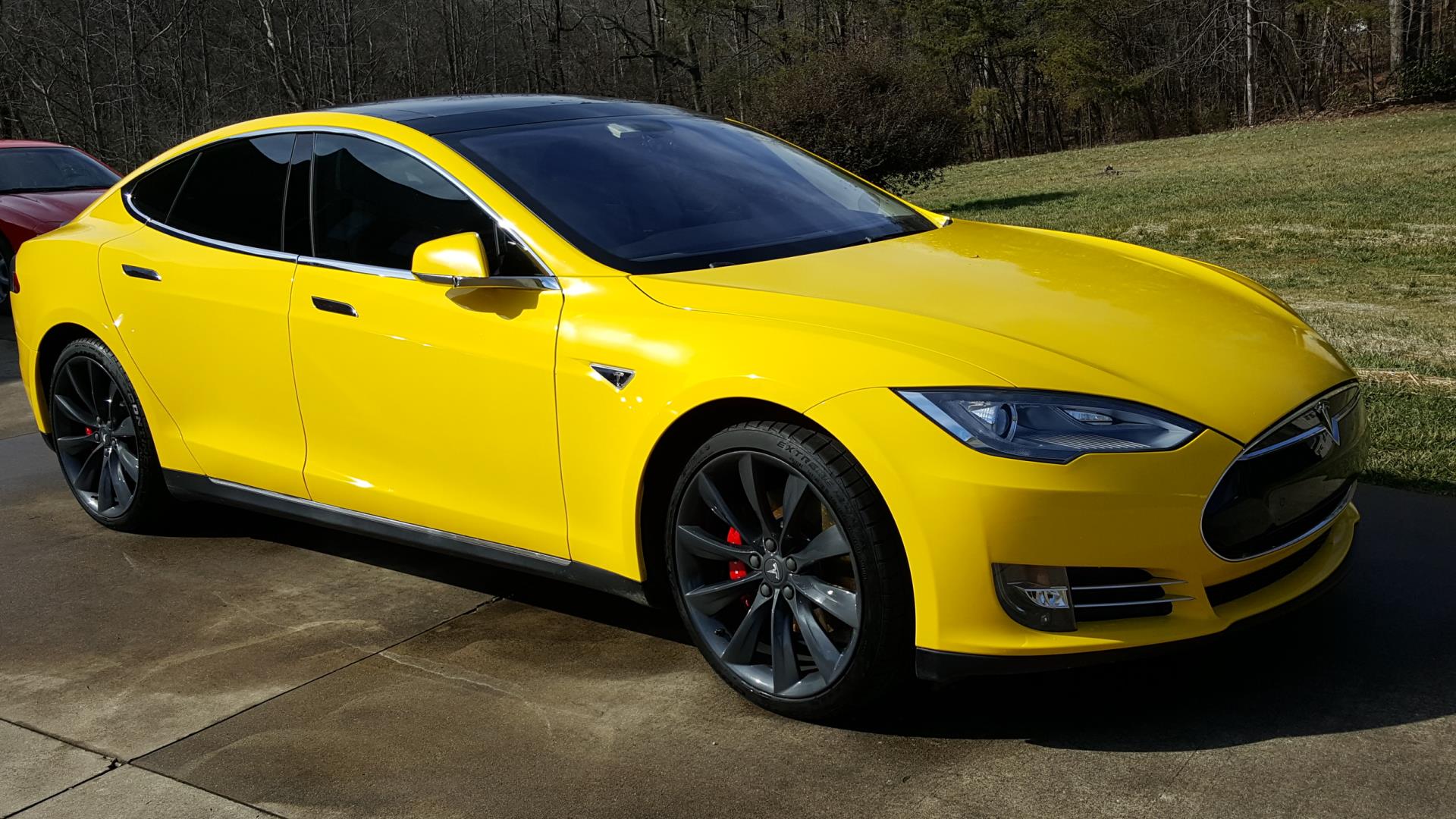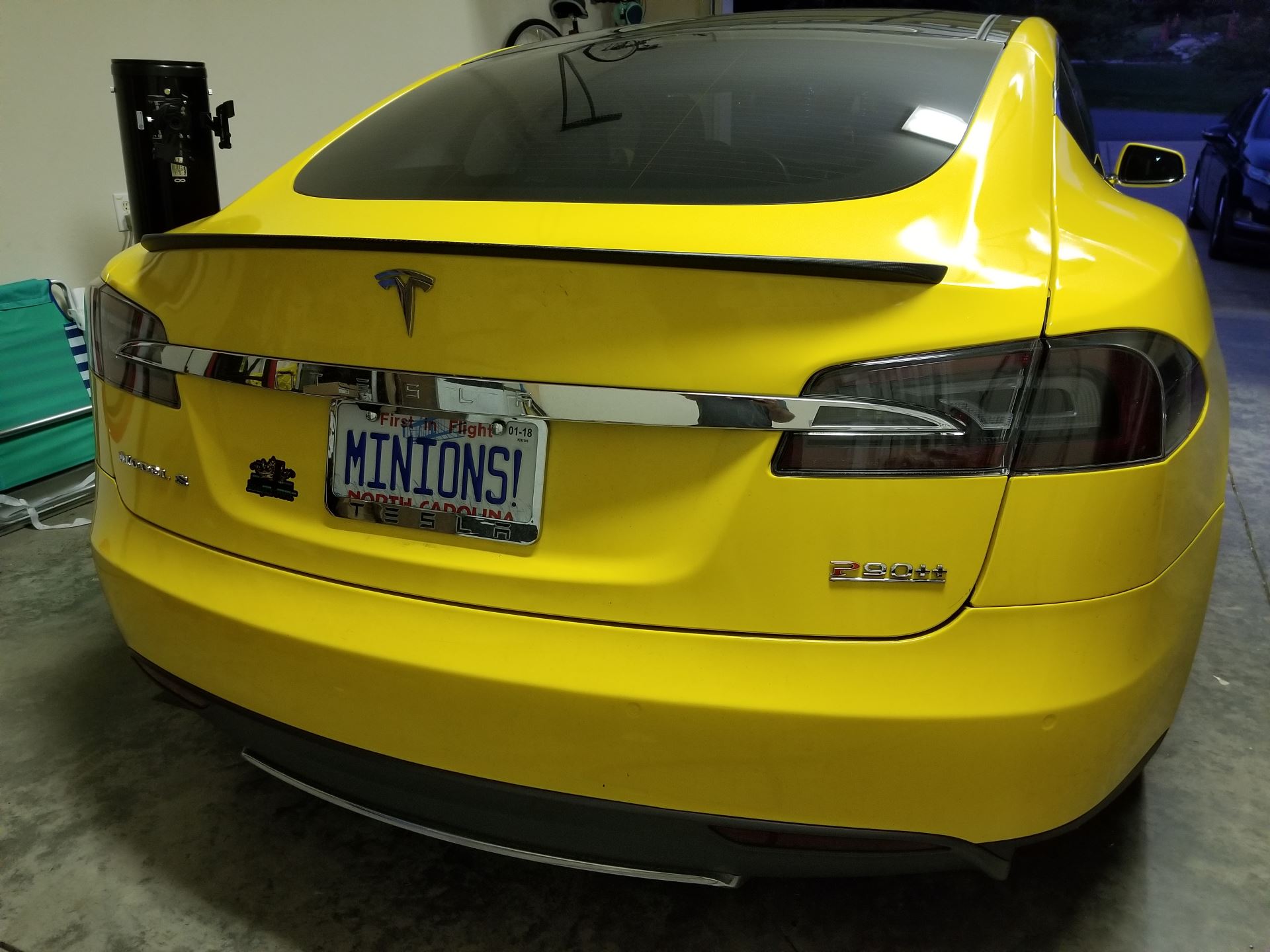 Basics:
Mileage: ~65,200 miles

Battery pack mileage: Updated: ~15000 miles
Drive unit mileage: ~27,000 miles

Battery pack: 100 kWh w/Ludicrous
Exterior Color: 3M Glossy Yellow Vinyl Wrap (Paint underneath is Tesla Pearl White)
Interior: White Alcantara with Carbon Fiber
Front seats: Next Gen Black Leather
Rear seats: Performance Black Leather (red piping)
Center console: Tesla's add-on front console (piano black)
Suspension: Coil
Wheels/Tires: 21" Grey Turbine w/ContiSilent (non-staggered)
Charging: 80A (Dual Gen2 40A chargers), Free Supercharging (Life)
Roof: Pano glass power sunroof
Misc options

Tech package
Premium interior lighting
HID headlights
Power rear liftgate
Carbon fiber rear spoiler
Large RWD front trunk

Rated range: ~270 miles at 100% charge (important: actually better, see notes below)
Title: Clean, no liens, North Carolina
Remaining warranty: None from Tesla (edit: see below about pack warranty)
Connectivity: Official LTE upgrade
Keys: Two
Modifications
Full Autopilot v1 retrofit

Bosch iBooster brake assist
Gen2 traction control setup (amazing with the RWD performance)
Gen2 steering controls
Gen2 Instrument Cluster
Front camera
12 ultrasonic sensors
Forward radar
Lots of details here: Autopilot Retrofit on Classic P85 | wk057's SkieNET

30+% performance increase vs stock

Modified vehicle firmware
Hardware added to enhance rear drive unit performance
Actual power output better than the original P85D... in a RWD car
553 RWHP, 480 ft/lb of torque (dyno pull)

456kW @ pack (611 "battery HP").

0-60 in 3.37s (possibly better)
Lots of details in this thread: P85 modded to be a P85 w/Ludicrous
Asking price: $150,000 OBO
Entertaining reasonable offers
Delivery to the continental US included in asking price.
Delivery to Europe, including retrofit to European specs (including 3-phase 32A charging and EU supercharging) included in asking price.
Discounted delivery available worldwide. Modifications required for compliance in the destination country (besides Europe), if any, will be at the buyer's expense.
-----
Hello everyone!
Today I've decided to list my one of a kind Model S for sale. I've been considering it for a long time and, admittedly, I'm kind of attached to the car. I've put quite a lot of work into it over the years and have taken very good care of it.
Now for someone looking for a cheap deal on a slightly earlier Model S, look elsewhere. This Model S is truly one of a kind and my asking price reflects that. I've had people make some pretty substantial offers on the car in the past, which I've previously declined. Suffice it to say, it's certainly worth far more than its VIN range would say.
This car started its life in January 2014 as a P85 rear-wheel drive performance Model S. It has since been modified to include Autopilot v1 and substantial performance modifications. The autopilot retrofit was also unofficially recognized by Tesla on this car and eventually the option was enabled internally on Tesla's side ("gifted") so that the car receives Autopilot "tile" updates. Honestly, I considered that a pretty high honor given Tesla's stance on modifications in general. Also, Tesla is allowed to perform service on the autopilot system and has done the official calibration procedures when needed.
Tesla, however, will no longer touch the rear motor or battery on this car. Both have been replaced. The rear motor was actually swapped as a warranty replacement in December 2016. Tesla replaced the unit with a brand new unit at the time. It just so happened that this unit was compatible with the dual motor cars as well, a fact that is partly to help with my performance gains.
The battery pack is a 100 kWh OEM Ludicrous (1760A) Tesla battery pack.
The motor and other vehicle software have been modified so that the rear motor can accept a whopping 1420A peak input current, vs the ~1100A of the normal P85.
Part of my modifications cause the car to believe it is a dual motor car. This means it is capable of using both the Launch Mode and Max Battery Power features. As far as I'm aware, this is the only RWD Tesla in existence capable of doing so.
Regenerative braking has also been tweaked on this car significantly, resulting in a huge efficiency gain depending on battery pack SoC. Near the center of the SoC range the car can reach well over 100kW of regen under ideal conditions.
Overall, the car is a monster for a RWD Tesla. It holds its own against a
P85D
, and it smokes a P85D from a roll and wins in the 1/4 mile. Non-performance dual motor Teslas, and every RWD variant of the Model S don't have a chance.
It is quite literally the most powerful rear-wheel drive Tesla in the world. It has dyno'd at 553 HP at the rear wheels with 480 ft/lbs of torque. This is before I made some additional tweaks which have shown a bit more power consumption, which would proportionally increase performance. I estimate actual max battery power peak RWHP to be closer to 575HP now, but have not had time to confirm this.
The range on the dash is shown as if the car were a dual motor performance car (P100D). However, the car doesn't actually have a front motor, so it is lighter and more efficient. I recently completed an 1,140 mile trip with the car showing an average usage of 287 Wh/mi. The last leg was 241 miles at an average speed of 74 MPH at 283 Wh/mi. Keep in mind the original P85 had a rated mile of 295 Wh/mi and the P100D 310 Wh/mi. So, basically, the rated miles this car shows are "worth" more power… and thus far closer to real mileage. I can safely get in this car and drive mile per mile what the dash shows for range and not worry about range. Specifically, I even drive up I-77 and I-81 through the mountains between my home and the Lexington, VA supercharger non-stop now with this car (over 240 miles) at full highway speed (~75-80 MPH) without worrying about range. Realistically, this car would show about 285 miles of rated range at 100%...but I've preferred to leave it showing the dual motor rated miles anyway.
Some caveats go with the modifications.
First, which should be obvious, this car is past its 50,000 mile warranty already. Also, the battery and drive unit are modified and thus no longer covered under warranty by Tesla. Therefore, there is absolutely no remaining Tesla warranty on this car.
See my note below about a personal warranty on the battery pack.
The car is still serviceable by Tesla, however, at the owner's expense. They have not blacklisted the car due to the modifications, thankfully The normal Tesla mobile app works normally, it has LTE connectivity from Tesla, free supercharging, etc.
Also, the car's firmware is locked to an early version of v8.0. Specifically, the final beta/EAP version v8.0 (103.53.1). Since the firmware has been modified, the performance enhancements I've done would have to be disabled entirely (reverting the car back to a normal P85) in order to update the firmware, as well as modifying and applying all of my modifications to the newer firmware. So, this car will not receive any further firmware updates. Fortunately, there hasn't been anything of note, in my opinion, released since this version that would make upgrading enticing.
Finally, the systems on this car are, obviously, hacked/rooted. Access to the onboard internal diagnostics screens and settings are available, among other things. The car is also currently connected to my personal network, and can remain connected indefinitely (if desired) to facilitate more advanced remote features and stats via my own little web app. I'm also willing to provide some ongoing support and assistance with this car personally, within reason, should the buyer desire it to remain on my network.
I'll note that the vinyl wrap was redone about two years ago. It does need some minor touching up in a few places around closures, mainly, but nothing overly obvious. The white paint has had vinyl protecting it for the majority of the car's life and is pristine.
I could go on more about the car, but suffice it to say I've reached the limits of what I'm willing to do with the car performance and modification wise. It's an awesome car to drive. It launches like a performance dual motor car, and has passing power as good or better than any other Tesla than the P100D. At this point I'd like to move on to other somewhat related projects instead of dumping more money into this car.
Considering the uniqueness of this particular car, and all of my efforts involved with it, my asking price is $150,000. I'll entertain reasonable offers, however. I've had some similar offers in the past for the car, and at the time I was not willing to part with it. At this point, I do need to move on to more important projects.
Service history available to buyer if desired.
Any questions, please PM me or ask here. There is a lot of info about this car scattered around. See
my Youtube channel
,
Twitter
, and my posts here for info.
I haven't really taken any sale-specific photos for the car, but I have plenty of random photos from the recent past that should suffice. I'll try to take some more photos later on and add them to the Dropbox album below.
Also, I don't plan on keeping this car listed for sale for very long. If it doesn't sell in the very near future I'll just end up keeping it most likely.
Thanks for looking!
-wk
P.S. - Proceeds from the sale of this car will likely go towards R&D for my next Tesla performance tune.
----
Dropbox photo album:
Dropbox - P28615
Misc links:
A look at the first real tuned-Tesla Model S: P85 turned into a 'P90++' with 30% more horsepower
Dyno Testing Tuned Tesla Model S P90++ (Video)
Tesla Inc (TSLA) Owner Turns His Model S P85 into P90++
Tesla Hacker adds Autopilot to a first-gen "classic" Model S
Tesla Hacker Changes Color of the Model S to Match Wrap
Recharge Wrap-up: Cow-colored Tesla Model X, Autopilot retrofit
UPDATED WITH 100 kWh BATTERY
Last edited: