I've a full write-up at
London to Orkney, and most of the NC500, in an electric car
but here's a summary: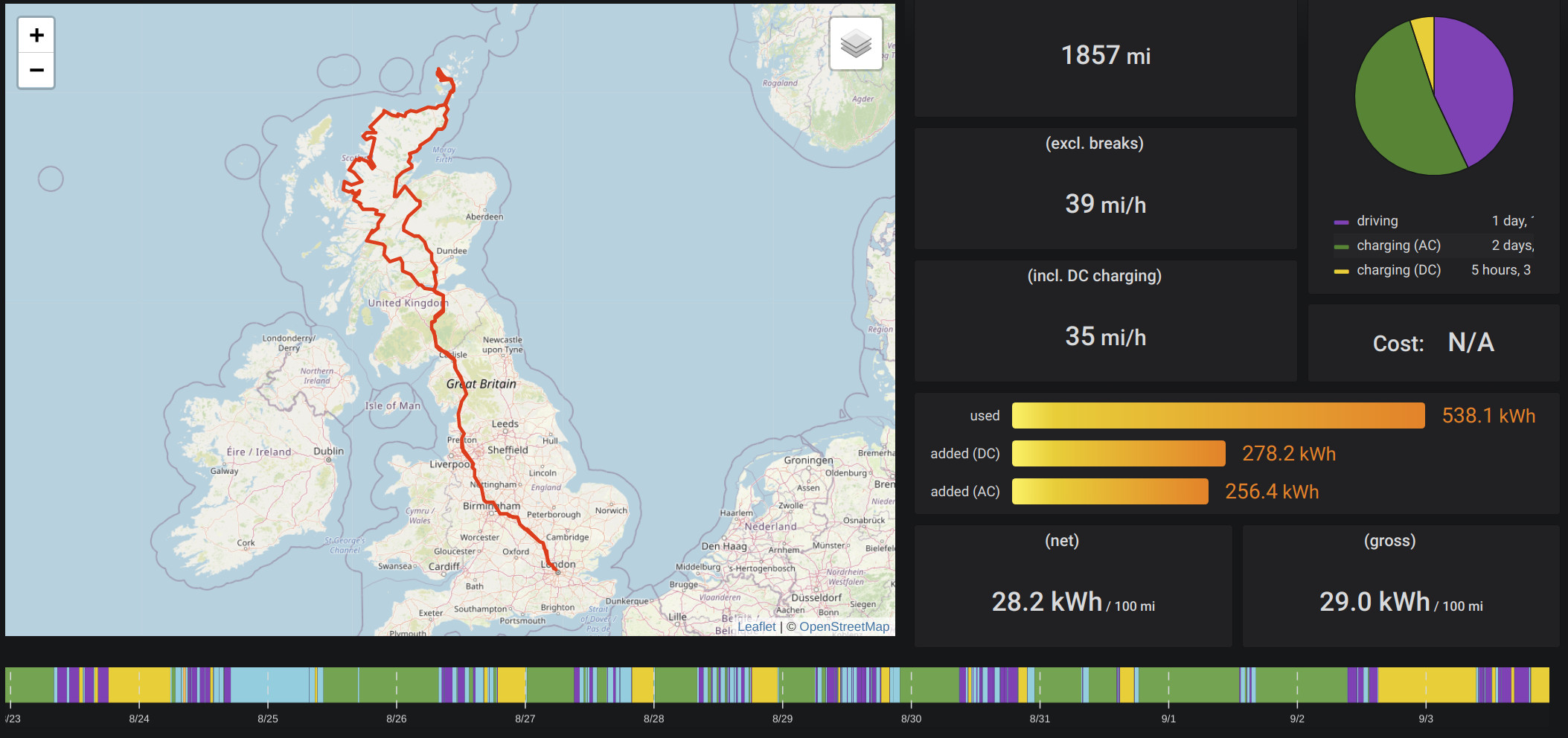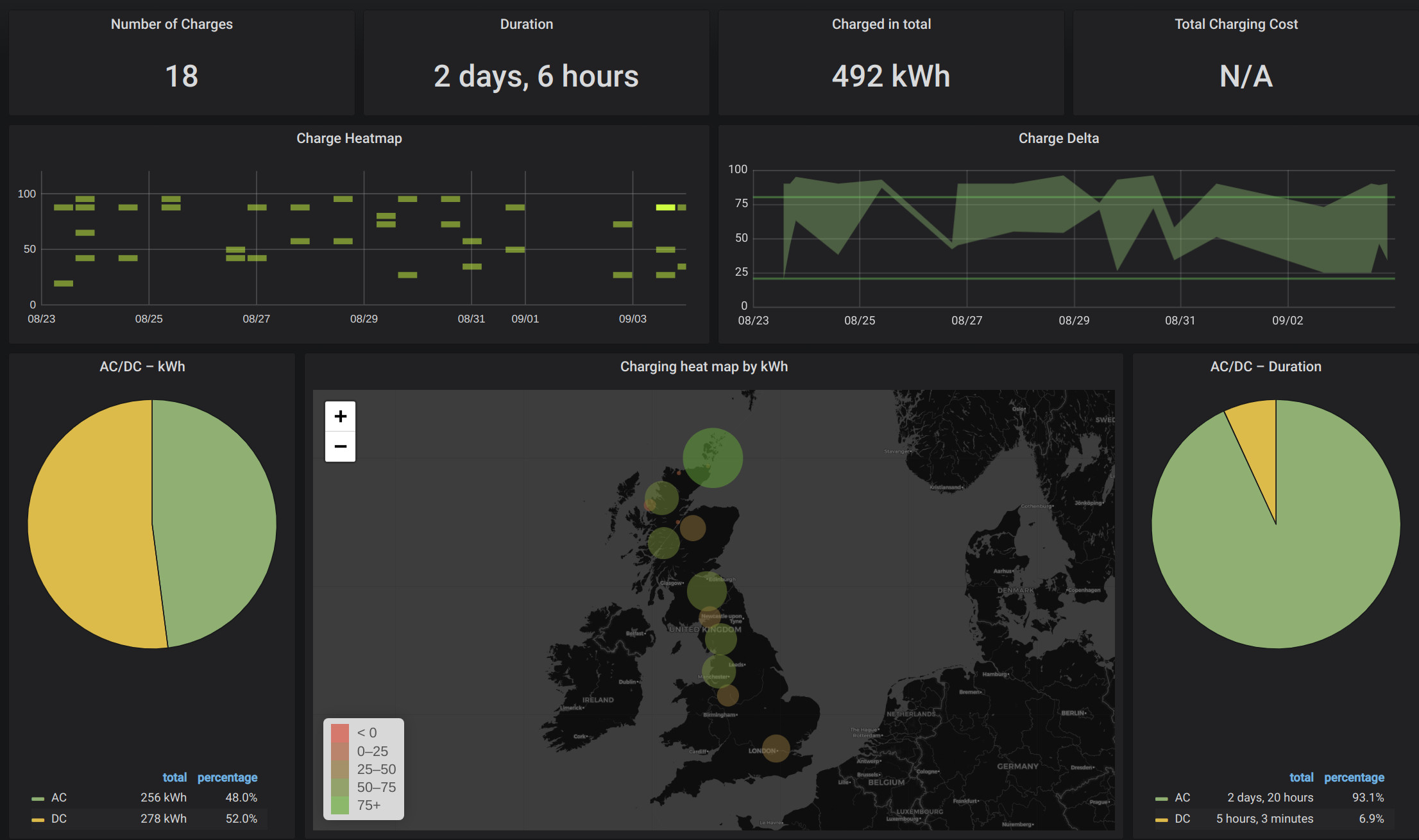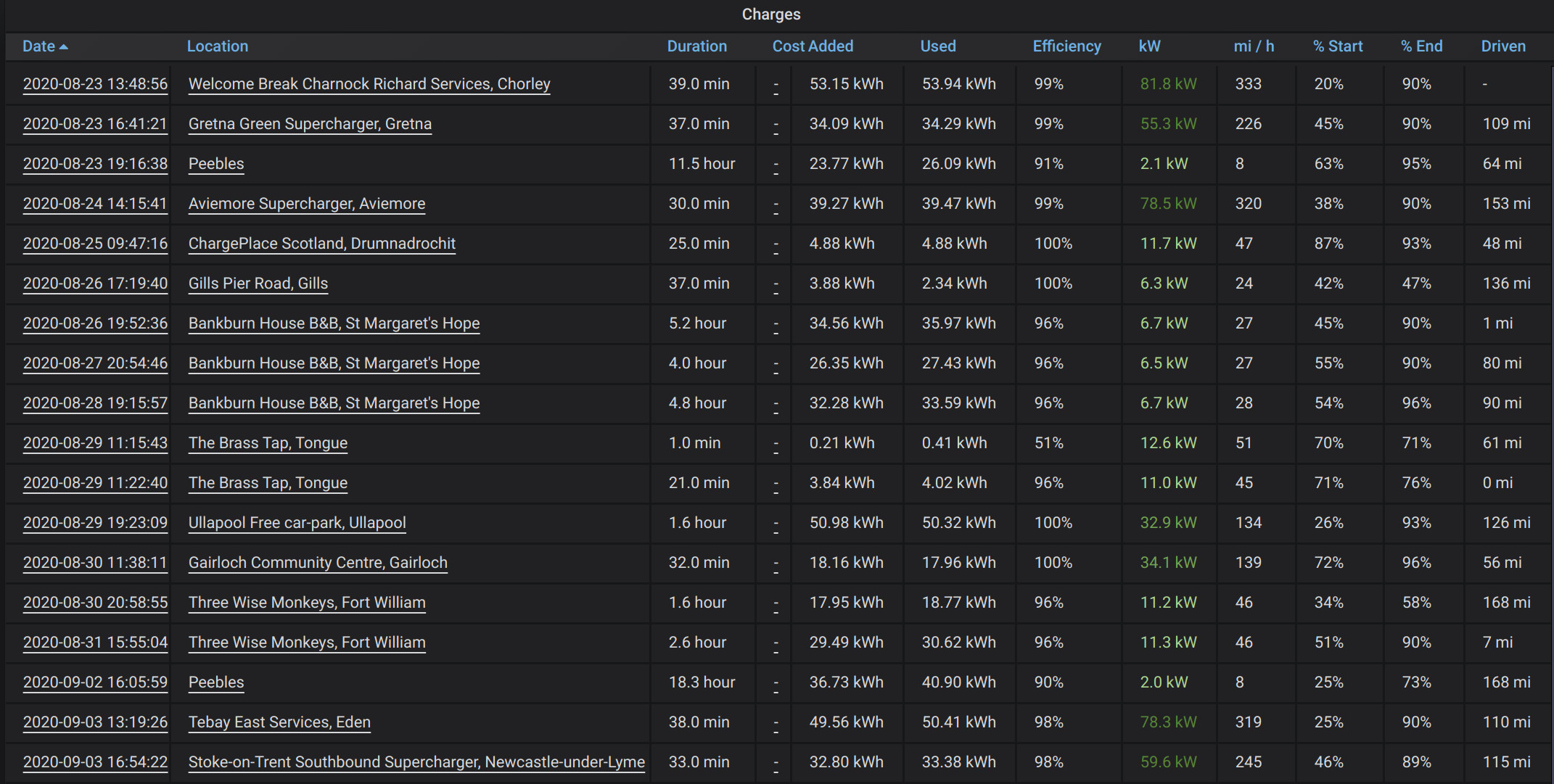 Planning
The route was based on a trip I took with my wife in August 2003. The main electric car specific constraint I used in terms of planning the route was: No more than 200 miles between charging stops, and charging stops coinciding with lunch, dinner etc. The main electric car specific constraint I used in terms of planning the accommodation was: Book accommodation near a charger (not necessarily with a charger), so that we could start each day on a 90% charge.
I managed to book a B&B in Orkney with a destination charger, and a B&B in Drumnadrochit in Loch Ness pretty much next to the CPS charger there. Unfortunately, for the north and west sections of the NC500 route, while we were able to book accommodation in towns which had CPS chargers, both towns were a little further down the route than we'd have liked.
The trip
Day 1: First charging stop at Charnock Richard, just south of Preston. Second charging stop was Gretna Green. That was one of the first times I've found a supercharger location with all the stalls occupied, although Gretna only has 4 stalls. It was just a 10 min wait though, so not a big issue. Not sure if it kept the battery preconditioned for supercharging during that time.
Day 2: On to Aviemore, for the last stop on the supercharger network for over a week. Then the B&B in Drumnadrochit, The Glen, pretty much opposite the CPS charger.
Day 3: Got a "CCS error" after a few minutes of charging on the CCS charger at Drumnadrochit, which I found was common with the older chargers, but switched to the Type 2 connector and all was fine albeit around half the speed.
Day 4: I think we got on to the NC500 route at Muir of Ord, but the route finder seemed to want to keep suggesting faster routes, so for that leg I had to put destinations in town by town. Chanced across a couple of not-quite-commissioned CPS chargers on the way - one at Brora and the other at Wick (supplementing Wick's other 2 locations). It is reassuring that the charging network is still being so actively extended, and interesting that they don't show on the map until ready for use (in contrast to the superchargers which can appear as "coming soon" for years). Was 30 mins early at the ferry terminal, so gave a quick top up in the free CPS bay (the other bay was occupied by a fully charged car). I remembered to switch off the Tilt Alarm before getting on the ferry. However, within 5 minutes of the ferry departing I heard the car alarm go off and got an alert on my phone. It seems that certain activities turn the Tilt Alarm back on. It was fine for the return journey though. Our B&B, Bankburn House, had a Tesla destination charger. The host has his own wind turbine that powers the destination charger, and was very keen to talk about Teslas, renewable energy and climate change, which I enjoyed doing too. Apparently there are 4 Teslas on the islands, including his.
Days 5 & 6: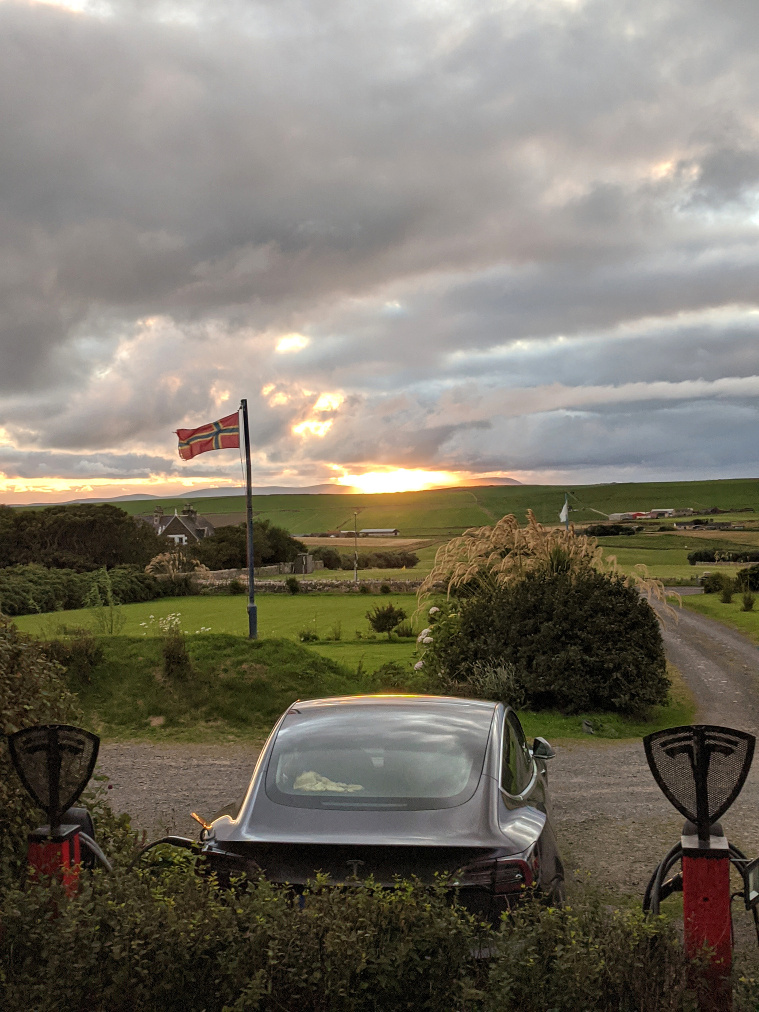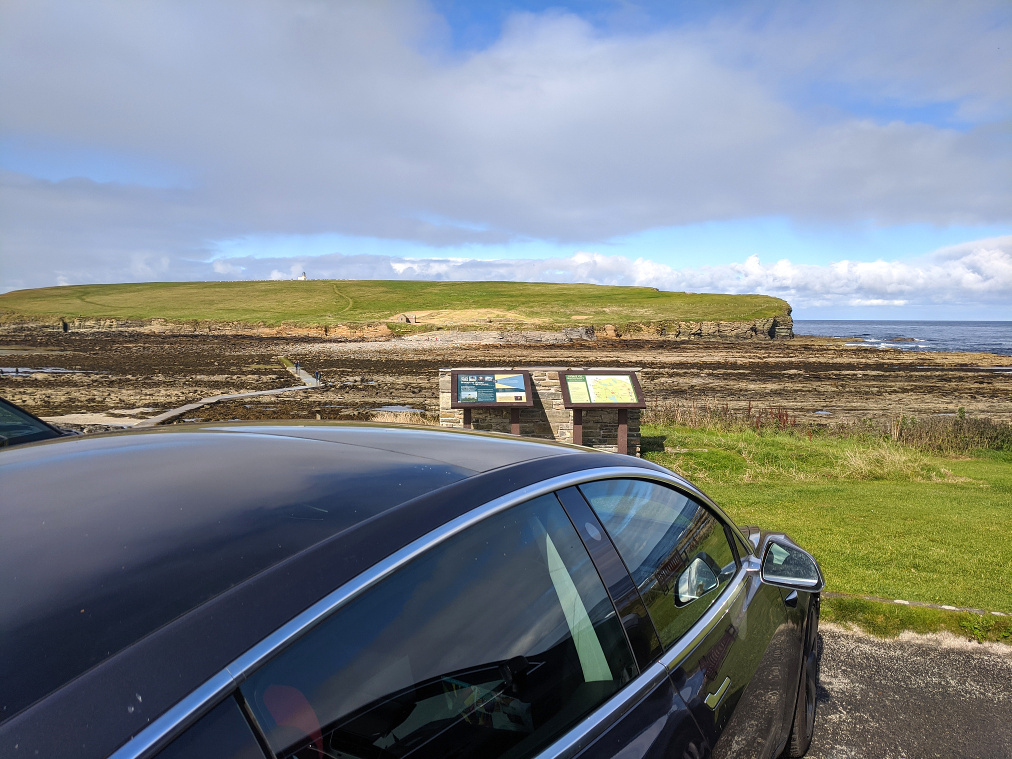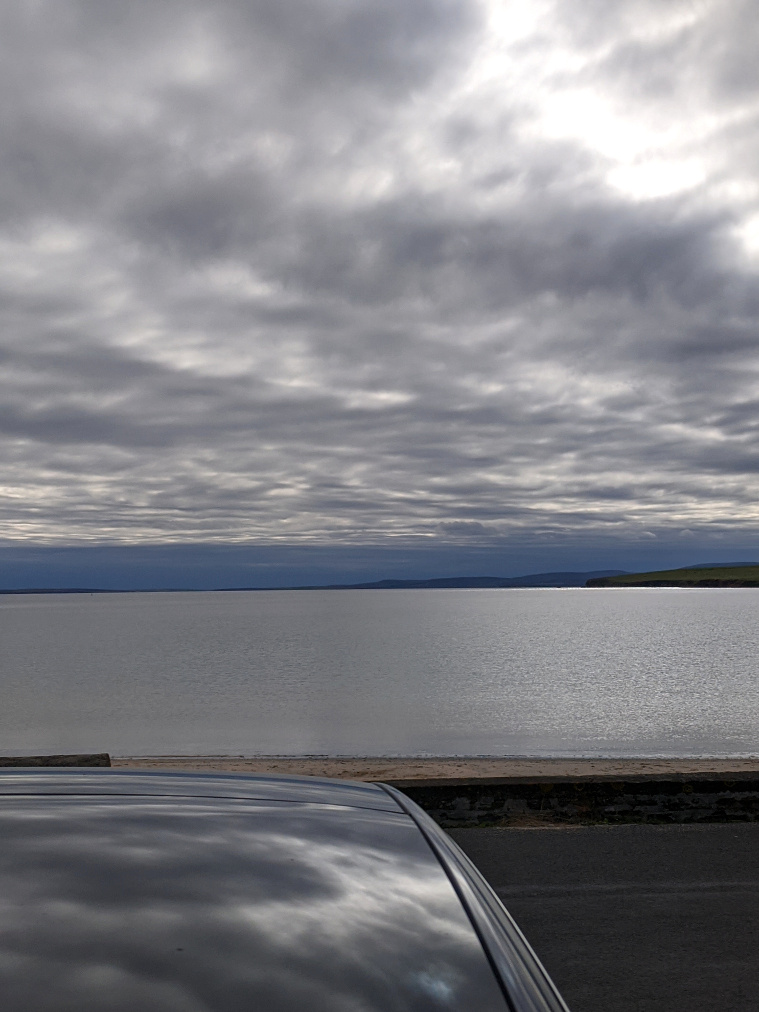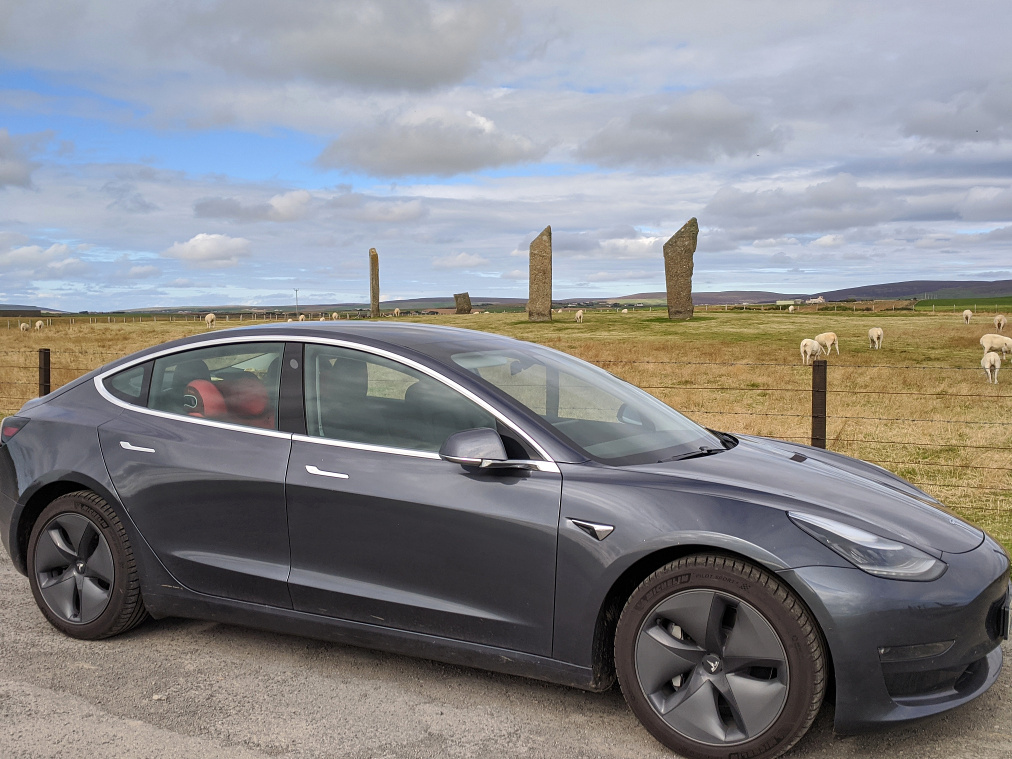 Day 7: Got the 09.00 ferry crossing. Tried to get a quick extra charge during a coffee break at Tongue, but it was an old CPS machine and CCS errored after 60 seconds, although I did get 15 miles of range on a Type 2 in the following 20 minutes. The stretch from Unapool to Drumbeg was perhaps the most difficult driving. The 25% gradient was a breeze in an electric car, but the single track blind summit was just a crazy idea for any car.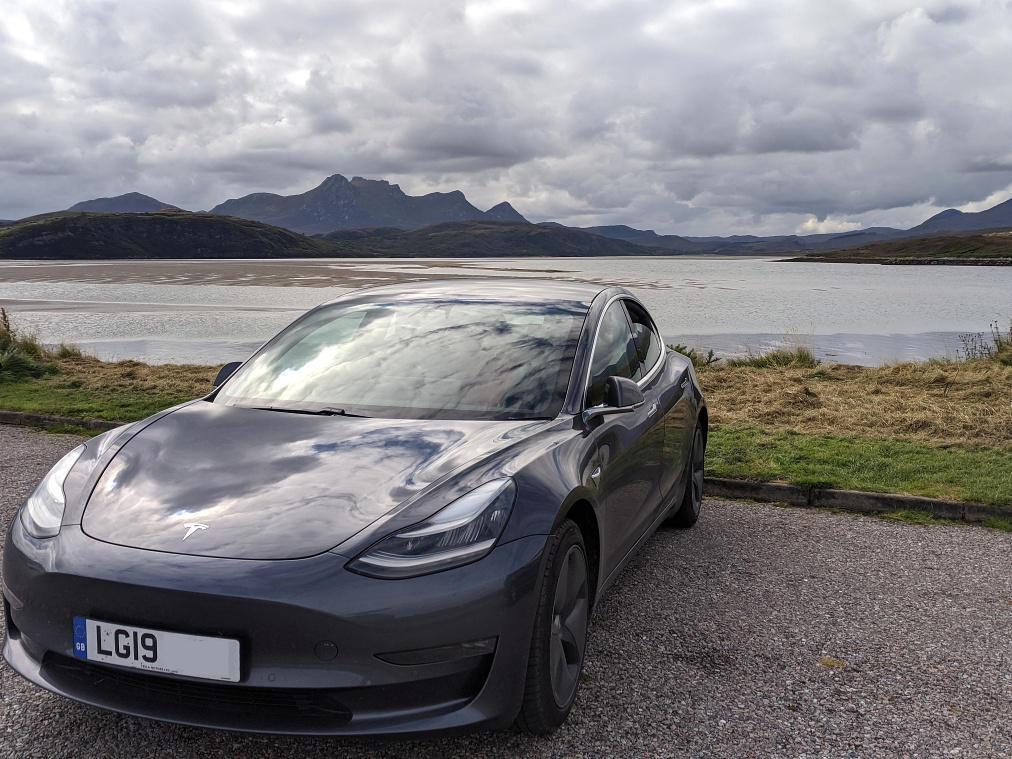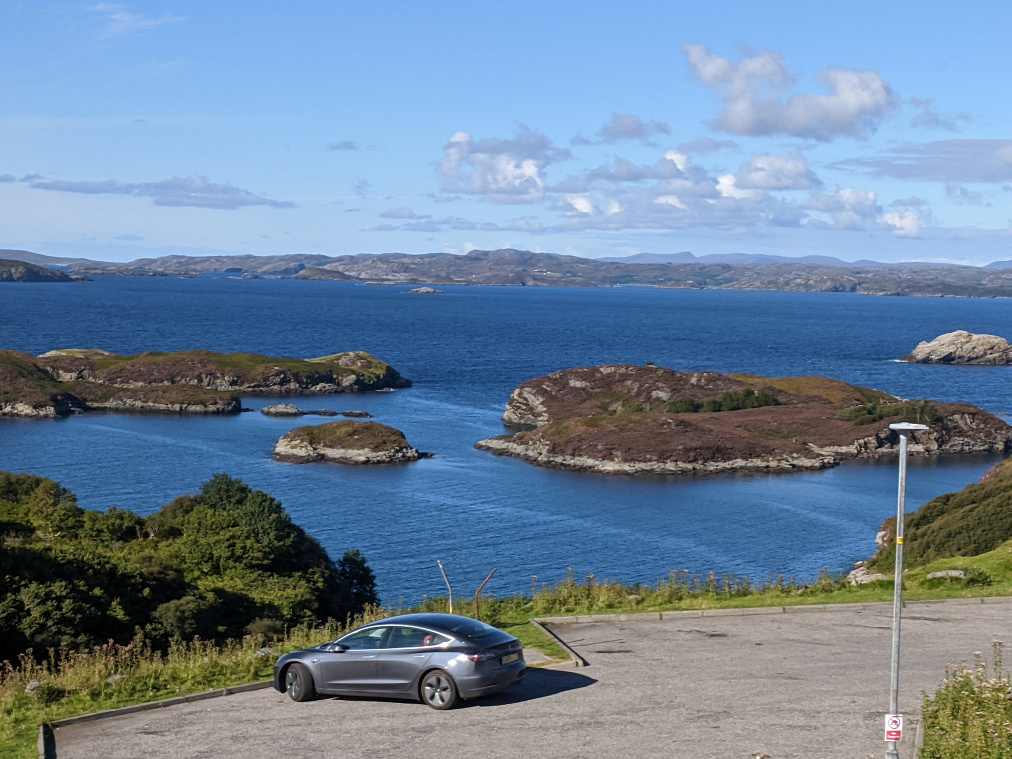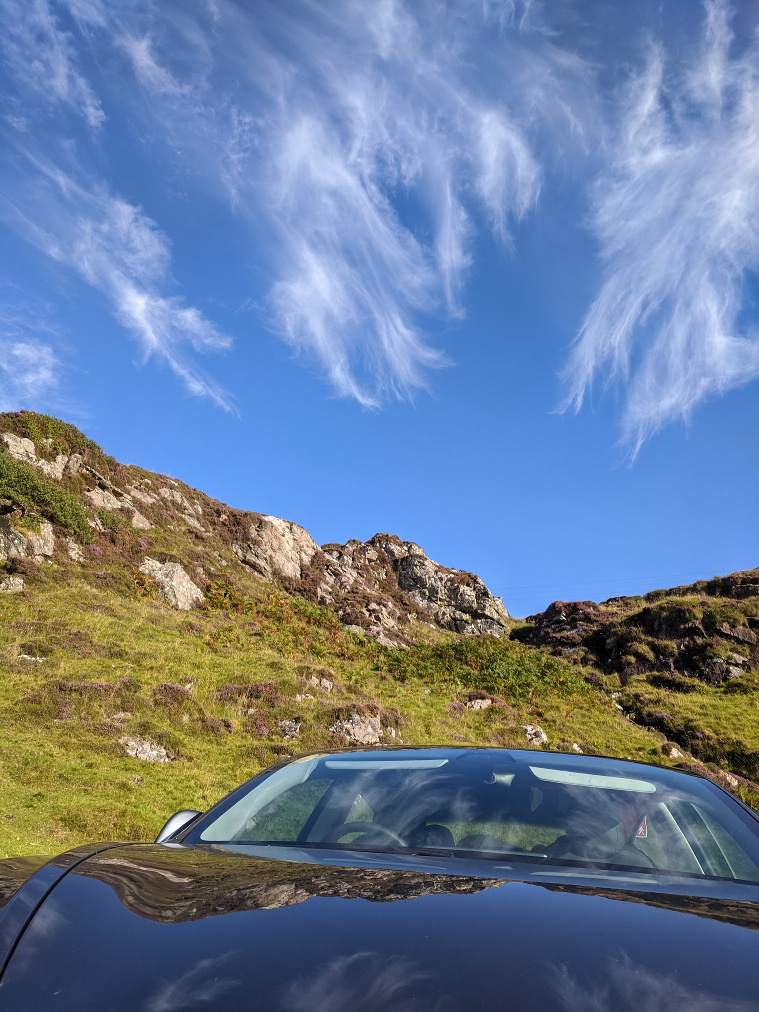 Finally made it to Ullapool a little later than expected. Hadn't realised the CPS charger nearest the hotel wasn't free, but the second charger in the town was free and wasn't far away. It was a newer one so the CCS worked. Got an average of around 33kW so it was just shy of the fastest CPS speed we got, and so we got from 26% to 93% charge in around 1.5 hours.
Day 8: Three of the next 4 CPS on or near our route to the next overnight stay were listed as Out of Service (The Torridon, Skye Bridge, and Glen Shiel). We didn't need to charge before Fort William, but decided to stop for a break at Gairloch and charge anyway. Met another Tesla driver there. It was their first trip in a Tesla, which they'd just hired in Stirling. Their first issue was that the hire place hadn't given them a fully charged car, telling them that they'd been unable to charge it because it was doing a software update. Their second issue was that they were unable to charge because they had no mobile signal and just had the CPS app not the NFC card. And their third issue was that it was an older Model S that didn't support CCS, so they had to use the much slower Type 2. I didn't have mobile signal either but fortunately my wife did, so was able to hotspot them so they could at least begin charging. Three and a half hours it said they were going to have to wait. Not a great first experience with a Tesla. On the other hand, I was able to use my CPS NFC card and get up to 90% charge on the CCS in a few mins.
While the Tesla's road visualisation might be great at showing traffic cones, it wasn't so good at showing sheep. In fact, I don't think it showed any at all. Most of the time the sheep just didn't appear as anything, but we did catch a time when a sheep was detected as a person, and got a photo of this.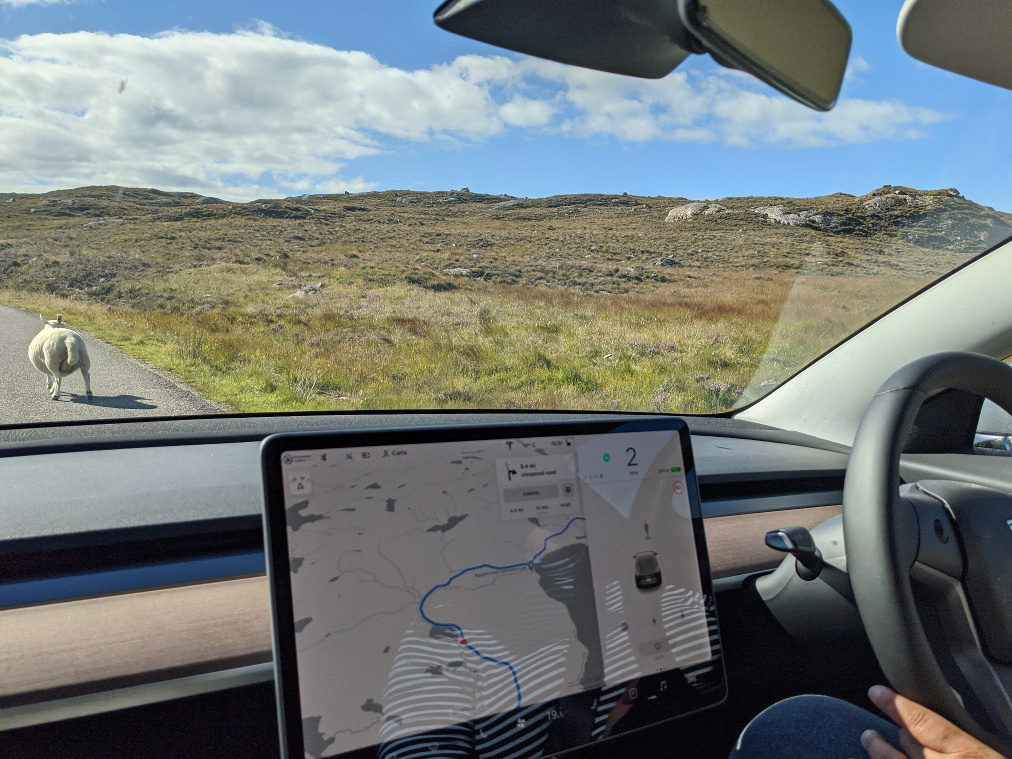 The Bealach na Bà mountain pass had a fantastic view of the Isle of Skye from the summit.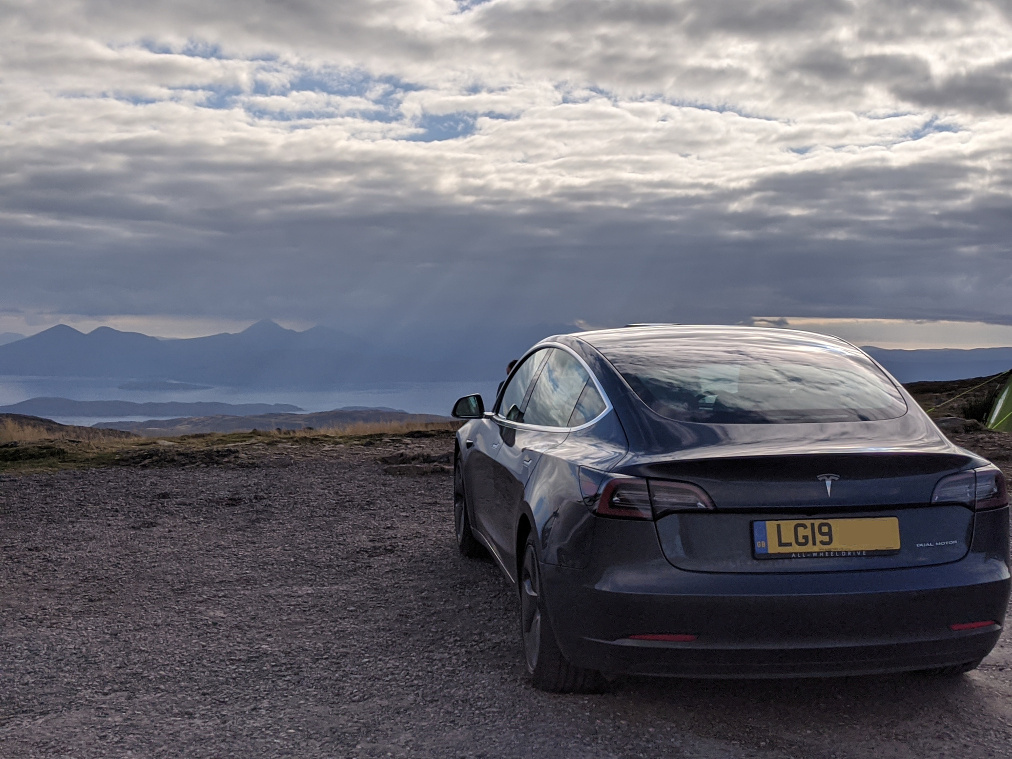 The road was definitely not for the faint hearted though, culminating in what seemed like zig zags down the side of a cliff. Left the NC500 route at Strathcarron. Finally got to Fort William. In the centre of Fort William there are currently two CPS stations: a fast free one, and a slow paid-for one. I was hoping to use the fast free one. Unfortunately, while en route, the fast free one went Out of Service. I was glad of the extra charge at Gairloch, because it meant charging wasn't urgent. Still wanted a little extra charge for the next day though, in case we decided to go for a day trip somewhere far away, so went to the slow paid-for charger. There was a fully charged Nissan van occupying one of the two spots, but I was able to squeeze into the second spot and do a bit of a paid-for slow charge while we got some dinner. When I went to move the car a couple of hours later, the fully charged Nissan van was still there. I wonder if it was using it as a free overnight car park. Given that it was a tight spot, there was no way for another car to have parked and used the charger with the Nissan van still there. A bit disappointing, and not the first time I've seen CPS charging spots blocked by fully charged cars for long periods.
Days 9 & 10: Popped by the free fast CPS to check if it actually was Out of Service. There was a Model 3 owner on the phone there to CPS support. He had low charge and was depending on a good charge for the next leg of his journey. Seems it definitely was Out of Service. Saw the spot for the Tesla supercharger which has been "coming soon" for a very long time. Looking at the photo of the equipment on site from 4 weeks earlier, it didn't look like they'd made any progress. So I topped up charge again via the slow not-free charger. The van had finally moved, and there was a Model S charging on one spot, making it a bit of a squeeze to get into the other.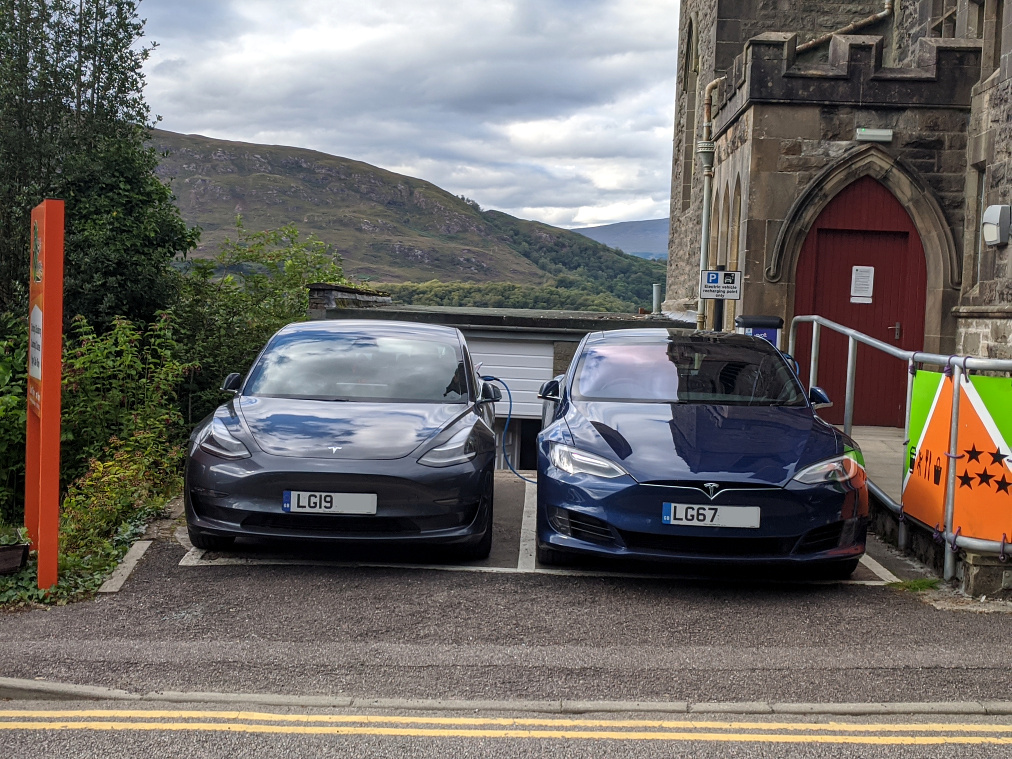 Days 11 & 12: Had the first supercharge in 9 days at Tebay Southbound. Had forgotten how fast superchargers are.
Conclusion
The supercharger network was excellent as usual, and the ChargePlace Scotland network pretty good overall too. Just had issues with CCS on the old CPS machines, and saw on the map that quite a few CPS were Out of Service, but on the plus side I did see new ones being installed. Charging more often than was needed did help, e.g. when the Fort William CPS went Out of Service. So it all seemed pretty routine.