Former Vendor
Supporting Member
We are excited to announce that we have the N2itive arms and lowering links in stock and available for installation.
Are the insides of your tires wearing out much faster than the rest of your tire when you already have an alignment that is in spec? Adjustable camber arms, or a combination of Adjustable camber and Toe arms can help you get your rear suspension aligned to -1 degree camber to even out the wear on your tires making them last 1000's of miles longer.
"So then on a Tesla, what eats the inside of the tires faster? While negative toe can theoretically chew tires up way faster than negative camber, the toe is still somewhat adjustable on a Tesla. So if you've had your car aligned and you're still getting inner tire wear then the answer is excess negative camber which you'll be able to see by looking at your alignment printout. This is why toe is usually not the culprit on a Tesla like many people assume. Not that it can't be an issue but most owners complaining about inner tire wear have already tried having the car aligned but the problem still persists. And another thing, as the car gets older the rubber bushings will begin to loose their elasticity and begin to sag which will increase negative camber even more. And, (my grade school teachers would have failed me by now for starting so many sentences with the word, "and".) if you drive your car in the low position this will add even more negative camber to your alignment. You could easily end up with -2.5° to -3.5°'s of camber. In my opinion the ideal rear suspension alignment settings on a Tesla S or X would be to set the camber to about -1° and set the toe to about 0.20 to 0.25°
at the ride height you drive at most often
(with air suspension). For most owners that would simply be the standard ride height. For those who are using our
RSX-1 lowering links
or who continually set a low ride height in the software then you will want to align your Tesla
at that ride height
. Then you will have great alignment at any height setting and save a lot of money on needing new tires prematurely."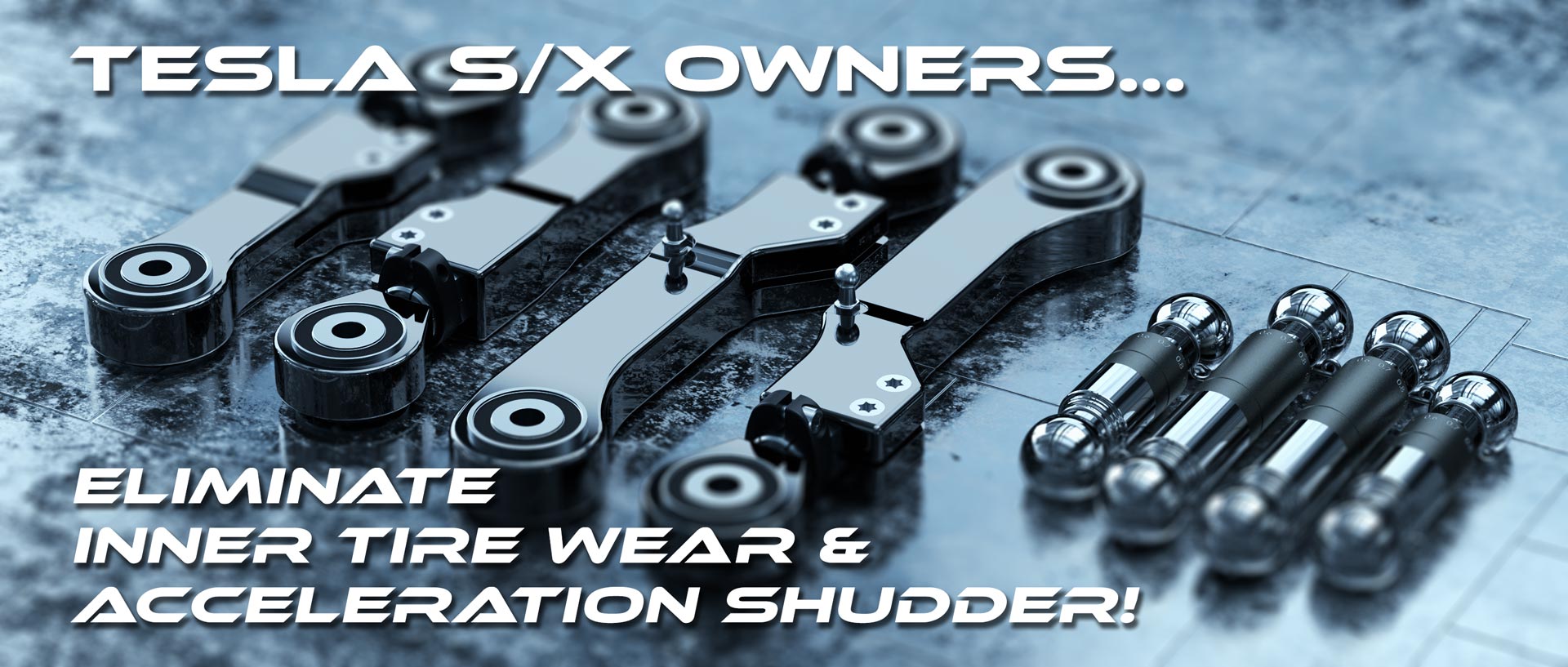 We resolve this long standing debate on Tesla tire wear and show you how to solve this problem as well as how to determine the source of your tires issues.

n2itive.me
My car has suffered from excessive inner tire wear as long as I have owned it (at 120k miles) and my camber was around -2.5 degrees. After installing the SX-1 and TSX-1 arms I can easily have my rear set at -1 degree camber with my suspension at low.
One of our other cars had a limitation where we could not achieve Tesla's rear toe spec and after installing the SX-1 and TSX-1 arms we were able to get -1 degree camber and toe in spec.
We also installed the RSX-1 Ride Height Adjustment Lowering Links for Tesla S/X. These are by far the easiest links to set the suspension height desired. They are also beautifully crafted! Other links we use require measuring and adjusting the link to set the desired height. They are also easily re-adjustable on the car if you want to set a different height. All other links we used require removal from car to set a new height. This is important because if you ever need to have Tesla replace any of the air suspension components, you will likely need to set your car back to factory height in order to have the car calibrated. In this picture my car is set ultra low and you can see the rear tires still have a good camber, this setting was only for promotional photographing, a alignment should be done for the height you want to drive at.
Contact us for appointment and current promotion, 833-383-4963 (877-evf-ixme)
Last edited: