Coke beats the Pepsi Tesla Semi deliveries by a week as Renault trolls its belated launch
-NOTEBOOKCHECK
Coke beats the Pepsi Tesla Semi deliveries by a week as Renault trolls its belated launch​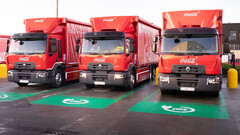 The new Coke electric truck fleet begins deliveries (image: Renault)
While Pepsi is setting up its Megacharger station to accept its first Tesla Semi batch on December 1, Coca-Cola is already doing deliveries in battery-powered trucks as of today. Renault Trucks previously mocked Elon Musk about the Semi's release promises and now beat Tesla to the long-haul EV game by a week.
Daniel Zlatev
, Published 11/26/2022
E-Mobility
A few weeks back, the Volvo-owned Renault Trucks issued a gentle tease to Tesla where it stealthily mocked the overpromise-and-underdeliver habits of its CEO Elon Musk, saying that while some "
talk the talk, others walk the walk
." Needless to say, it was regarding Tesla's Semi long-haul electric truck release promises that started in 2017 and are now in their fifth year with an imminent
delivery of 15 Semis to the first customer Pepsi scheduled for December 1
.
Renault, however, delivered its first electric rigs to Pepsi's archrival Coke in Belgium today, a week before the Semi's official launch event that Tesla has invited shareholders and investors to. The Renault trucks are of the E-Tech D et D Wide model varieties and are not exactly a direct Tesla Semi competitor as they have much shorter range on a charge.
Coca-Cola, however, needs the rigs for the so-called last-mile deliveries of its soft drinks, so Renault worked with it to develop a customized solution. According to Siegfried Van Brabandt, the Director of Renault Trucks Belux:
We carefully analyzed Coca-Cola's logistics data, produced realistic route simulations, and carried out tests under real conditions that looked at energy consumption as well as driver comfort and safety. The trucks are also equipped with 360° camera systems to eliminate blind spots, a loudspeaker to warn pedestrians and cyclists, and a clear door for optimal visibility on the passenger side...
Additionally, as part of the Volvo Group, we are investing in the expansion of public charging infrastructure in Europe through strategic partnerships. This is going to be a really exciting decade for our industry, and we are pleased to be making significant progress in this area with partners like Coca-Cola.
The tailor-made Renault rigs can cover 200km on a charge, while the route of its diesel trucks in the area averages 150km. This leaves plenty of leeway for the electric trucks to return to base and charge overnight from the dedicated piles that are using 100% green energy for the top-ups, generated on site.
Next year, Renault plans to release its true 44t Tesla Semi competitor, which will be able to go much farther on a single charge than the trucks it delivered to Coca-Cola today, all the while it invests in the charging infrastructure needed to service its long-haul electric vehicles.