Hi guys, I was just going to see if I could get some advice/input from everyone here on the threads.
I have been in the market for another Tesla and I have been watching a few on eBay. This was probably a bad idea from the beginning but I was getting desperate. I found one that was no reserve and it ended last night so I went for it and bid on it. I ended up being the top bidder. Before bidding on it I had reviewed the Carfax and then ebays "Autocheck" and the carfax was clean, however the Autocheck on it had everything good except it said "Non-title flood damaged record" and that was the only mark under the "Damage Check" section. I reached out to the seller, they said that they had purchased this Tesla and another Tesla model 3 at an auction. Tesla sold these directly through the Auction. The seller stated that there were no issues with the title, it was not a branded title, and that the warranty is still applicable.
They stated that the took possession of both Teslas and they had a few small issues, I believe one had an airbag issue and the other had problems with the electronics on the seat. The seller stated that the reason Tesla sold it at the auction (and the reason it says "water damage") is because an employee might have left the car window down or something. The car itself appears to not have any water damage at all, but I haven't looked at it in person. You can view the car/listing at the link below, and if you click "view original listing" then you can see the autocheck yourself. The seller says that Tesla has warrantied the 2 electronic issues mentioned above.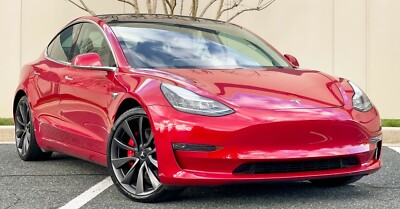 2020 TESLA Model 3 Performance. This Model 3 has super low miles along with a beautiful interior and the full suite of TESLA options. TESLA Red Multi-Coat Paint (PPMR). 2020 TESLA MODEL 3. Check with an authorized Tesla dealer for any open recalls.
Does this seem sketchy to you guys by any means? I'm fine if it had a little water damage but I don't want to receive the car and the entire thing be completely screwed up. I believe I'm covered by eBay in some senses as well. I also don't want to have any issues with the warranty through Tesla. It states that it's still under warranty, the dealership also sent me screenshots of the app showing that it still has it's factory warranty, and they even stated that Tesla fixed the seat/air bag issue under warranty mentioned above.
I was going to go through with the whole deal, but after talking to them earlier they required me to put a $1k deposit down (not mentioned in the eBay listing) but they also are wanting me to sign the bill of sale and final "agreements". I know this is part of the normal process of buying a car, but do they normally include an Arbitration Agreement as well? There's one in here and that really scared me as I believe i would have no recourse legally if this whole deal goes down the drain. Would really like ot hear some thoughts on the hwole thing. Thanks!