Tesla just updated its 2017 "coming soon" map, and low an behold there is now a dot for a supercharger that is located in Madras, OR (which is about an hour drive north of the Bend Supercharger).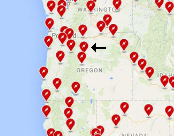 Since I am within driving distance, I will keep this thread updated with pictures and other info. While the exact location is still unknown, my guess would be near the fueling station of Safeway.
Was not expecting a location here, but i'll take what I can get!