I've been living without home charging since purchasing my M3P+ in December last year. I'm renting in an apartment complex that doesn't have anywhere to charge. The Tesla Wall Connector that I received with my car is installed at my parents place. That's allowed me to use that charger when visiting them, the Chargefox charger at Helensvale (Gold Coast), and a destination charger at Hope Island Market Place when grocery shopping. It's been fairly hassle free, plus the kids love going charging because they get to play games or use Trax. When I've had to go to the office in Brisbane I've used a car park that has a couple of destination chargers that meant city parking costs were minimal after the work discount and free charging.
Anyway, big changes are afoot after we purchased a house at the end of June and are now renovating it. I'm putting in 15 KW of solar panels with a 3 phase inverter. The solar will be fairly balanced throughout the day with panels to the North-East (dead in line with the winter sun) and the rest facing North-West. The property is North-East facing. The image below is taken from a solar quote that I received, to give you an idea.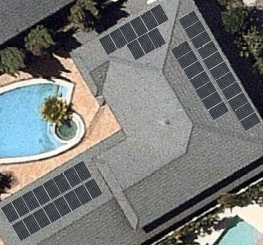 The idea is to look ahead to when both our cars are EVs so that we have plenty of capacity and the ability to add batteries when they come down in price (hopefully in a year or two).
The large consumers of electricity in the new house will be a heat pump for hot water, induction for cooking, a pool pump, AC for cooling/heating and I'm considering an electric pool heater. I noticed from some YouTube videos that people use additional devices to orchestrate where the solar goes, e.g. battery first, then hot water, then car.
The Tesla Wall Connector Gen 3 is not available in Australia yet. I was hoping this would introduce an integrated experience with a Powerwall and solar to provide smart power management capability similar to the devices I saw in the YouTube videos. Since it's not available I wondered about the Zappi, given its ability to have multiple modes depending on what your situation is, e.g. grid time of use, grid plus solar, or solar only. The Zappi is a lot more expensive though.
I could probably just order another Tesla Wall Connector and manage the car charging by adjusting the amps to make sure I maximize the solar component of the charge.
Any advice, suggestions and experience welcome!