Recently we finally had a Model S at our disposal for a day, and we drove with it fully loaded (2 adults, 3 kids, 1 dog) 265 km.
With such an average consumption a new S60 really would do
It was a colorful mix of country road, city traffic, highway and a whole line of acceleration tests. Air condition was on at 20°C at all times, it was a sunny warm day. At the end of day it showed an average consumption of 161 Wh/km, which was quite a surprise. After all the S85 is about 600 kg heavier than our Nissan LEAF.
Without doubt a very nice car, a lot roomier than our LEAF (especially on the rear bench seat), of course a lot more stowage, great driving experience, overall very conclusive. Things that I noticed:
Why are there no compartments in the doors and on the backside of the front seats, and no can holders in the rear? No idea how to do without these, especially the kids always have their drinking bottles and stuff for entertainment with them. Not worth any whining or an aftermarket solution, but nevertheless.
Why is there no speed limiter in addition to cruise control? With the LEAF I drive almost all the time with speed limiter, especially in urban area, cruise control is only put to use on the highway if at all. I have never seen a car with cruise control that does not have a speed limiter as well, and I really do not want miss it.
What is it with the Tesla Google navigation? Is it really that rudimentary, or did I overlook something? I mean, with all the other navigation systems there are a lot of configuration options, in the Tesla navigation I could not even manage to select an alternative route. On a well known route the Tesla navigation first wanted to send me 110 km over the highway, instead of the 30 km shorter country road, and then it even wanted to send me on a detour to nirvana due to an allegedly but nonexistent road block. I did not check if it possible to define a route with way points, which is also common usage. Up-to-date data well and good, but then functionally even the good old navigation from the LEAF would be better!
From where does the Tesla continuously know all the allowed speed limits? Does it read traffic signs, or does it get the data though data link? I mean it knew each and every tiniest or remote road works. The allowed speed limit gets transferred to cruise control, but it (or autopilot) can not adapt speed automatically. Will that be something for autopilot v2?
How does Tesla do it with the permanent data connection including roaming? I mean such usually causes extra costs. How fast is that data link and is there a data volume limit? We had streaming radio all day, even during our side trip from Austria to Germany.
Does Tesla deliver any new Model S with 4G module by default now, or is this only for the USA? The S 85 we drove only had 3G, but of course that one was already a bit older.
Can I please have a new S60 now?
OK, some more info about #2: I had no idea that the
SPEED LIMITER
functionality in addition to
CRUISE CONTROL
is not common in the USA.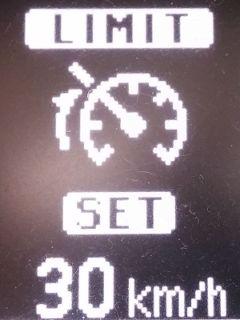 It is really a very convenient feature that you will not want to miss once used to it. In our Nissan LEAF it can be activated starting with the lowest setting of 30 km/h (which is the max allowed speed in residential areas in my country).
Once activated you still have full control using the accelerator, but it does not allow you to go faster than the set speed limit, except when using kick-down (so you can still react quickly if a traffic situation should require). Acceleration will slow down when reaching the set speed limit, so it is very smooth in operation. The rocker switch on the steering wheel lets you increase/decrease the set speed limit in 1 km/h and 10 km/h steps, and of course you can cancel, resume and set a new limit starting with the current speed at any time.
With the LEAF I use the speed limiter all the time (way more often than cruise control), be it in residential areas @ 30 km/h, regular city speed @ 50 km/h, or country road and highway @ 70-100 km/h. It has the major advantage that you do not have to cancel the setting if you need to go slower depending on traffic, no more speed tickets if you always set the proper speed limits, and even on the highway it can be more relaxing to just leave the foot on the accelerator then putting it aside when using cruise control. You just set the limit and drive, no more watching the speed indicator all the time and of course no accidental speeding.
So when driving through town, I always have it set to 50 km/h. When I go home and enter our residential area I reduce the setting to 30 km/h and just leave the foot on the accelerator in any position before kick-down. Our house is on a hill, with the ascending slope reaching up to 18°. Going uphill with steady 30 km/h helps keeping the power consumption at a minimum. Without the speed limiter you have to be careful not to give too much power, since you do not clearly feel the increase in power consumption when accelerating uphill.
Cruise control would not be of any help in any such situation, and it would not even engage at such low speeds.
Speed limiter functionality should be easy to implement, especially with cruise control already present, so it would be really great if Tesla would add it.
Is there any way to submit suggestions for improvements to the Tesla Software Development Team?
Concerning the decision of getting a Tesla I am literally sitting on needles, I do not think any other decision has been that hard before. If you buy or lease as a private person here, you will not get any incentives and have to pay a sales tax of 20%, giving the new base Model S 60 a price tag of around US$87,450. If you buy or lease as a company you can get half of the sales tax back (but only if the purchase price is below around US$90,224, otherwise sales tax has to be paid in full) and *maybe* get a few thousand Euros in incentives, but it's a tricky thing and one can not count on that, because if the funds get depleted before the car gets registered and all necessary papers submitted, you will not get anything at all (and there currently is not much left in the pot of subvention funds and delivery of a new Model S takes about 3 months from ordering).
If we should do it, it would be a lease for our company (to get half the sales tax back and at least have a chance for getting the incentives), and with the need to stay below around US$90,224 it can only be a S 60 with premium package and nothing more (I so would want the 60D, but it just is not possible because the purchase price would go beyond the mentioned limit). Autopilot would have to be purchased afterwards, same as the upgrade to 75 kWh usable battery capacity, which is possible and does not influence the before mentioned regulations. I think a lease (as we plan to do it) works differently here than in the USA, we have to put 30% of the total price down on delivery, pay a monthly lease for 4 years, then buy the vehicle at a predetermined salvage value. We have never considered spending that much money on a car before, but since we finally had that Model S for a day, our Nissan LEAF is just not (large) enough any more. I so want one, but can it be justified under these circumstances? Still not sure, in my mind the decision flips all the time, but well, I will have to come to a conclusion rather sooner than later, latest before the current referral program ends, it will only be possible if we can make the most out of it. Crazy, right?